Founded in 1963, the Association for Tropical Biology and Conservation (ATBC) is a membership corporation, international in scope, membership, and objectives, functioning as an international body to promote research, education and communication for tropical biology. The ATBC, currently with members from  65 countries, fosters collaboration and information sharing across a broad community of tropical biology professionals and provides outlets for research dissemination, educational and funding opportunities, particularly for early career scientists working across the tropics. As a coherent global community of science professionals, the ATBC provides a credible, collective, and authoritative vision of tropical biology and conservation issues that underpin public policy and management action.
ATBC new memberships, renewals, and subscriptions to BIOTROPICA are processed by Wiley. Membership is open to all who are interested in tropical biology and conservation. Visit Wiley to become a member, which is a great opportunity to work together with a select team of biologists who are leading major efforts to conserve tropical forests. Other member benefits include:
Biotropica: The official journal of the ATBC with an Impact Factor of  1.944 (2016). Free access for articles;
Discounts for attending ATBC Annual Meetings: Annual meetings feature numerous symposia on cutting-edge topics and exciting post-conference field trips;
Support for Conservation Initiatives: The Association is playing an increasingly vigorous role in tropical conservation via the ATBC Conservation Committee, which is open to all members;
Awards: Including numerous travel awards to the annual meetings for students from developing countries;
Affordable Membership: Among the most affordable of all scientific societies, with major discounts for student members and those in developing countries;
Receive 35% discount on all Wiley books.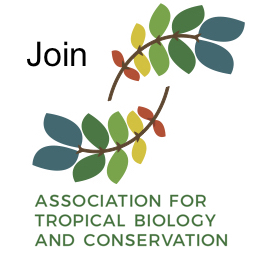 Click at the image above to join ATBC!
If anybody who wants to join cannot for financial reasons, please contact our Executive Director Robin Chazdon.
More ways to join ATBC:
ATBC is non-profit organization with a limited financial base. Most of our revenue comes from Biotropica journal subscriptions and from membership dues.
Many individuals from developing countries cannot afford costs of annual membership. Your donations can be used to subsidize these members.
Donations are also needed to provide travel funds for students, defray costs of publication and open access for Biotropica authors.
Your donation will ensure that ATBC is a diverse and representative professional society open to all interested members regardless of their ability to pay.