Calling all 3rd year biologists!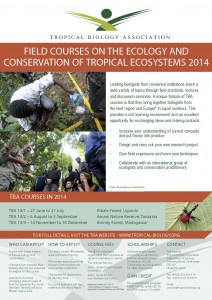 Do you have a keen interest in conservation and tropical ecology?
Are you looking to gain valuable experience in the field?
Would you like to improve your biological skills?
If so, one of our month-long field-based training courses is for you!
In 2014, our exciting programme of activities will run in Uganda, Tanzania, and Madagascar; each course will give you the opportunity to:
Build on your theoretical understanding with 'hands on' field practice
Design and carry out your own research project
Collaborate with a committed group of international students and biology teachers
Details of our courses are included in the attached files. For further information and applications, visit our website at: http://www.tropical-biology.org/
Links to poster and powerpoint advertisements.
DEADLINE FOR APPLICATIONS 20TH FEBRUARY!