APPLICATION DEADLINE NOVEMBER 15, 2016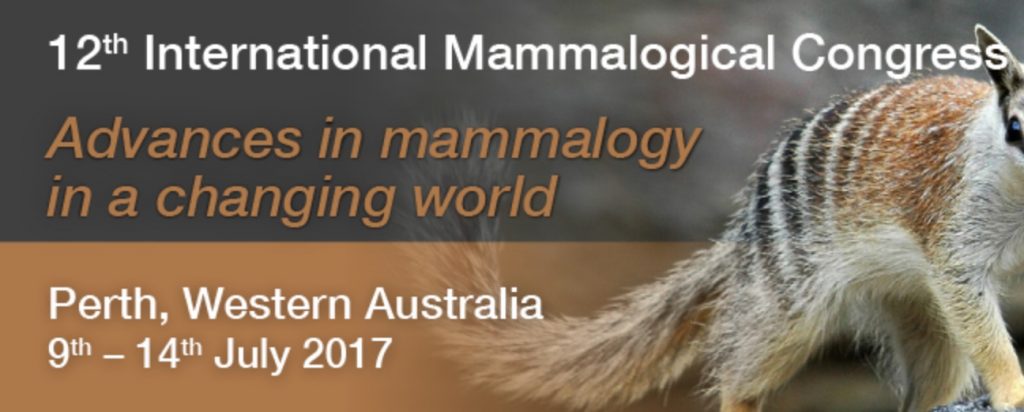 Are you an undergraduate or graduate student member of the American Society of Mammalogists who plans to attend the 12th International Mammalogical Congress in Perth, Australia, in July 2017? Or do you know of any undergraduate or graduate student who wishes to attend the congress and who needs some financial travel assistance in order to attend?
The Board of Directors of the American Society of Mammalogists has made available four travel grants of $1250 each to be given to student members of the Society who will be attending the 12th International Mammalogical Congress (IMC-12) to give an oral presentation or a poster.
Any undergraduate or graduate student attending any university in any country is eligible as long as the applicant is a member of the American Society of Mammalogists at time of application. To become a member of the Society visit the ASM membership page at http://www.mammalogy.org/membership. Applications should include (1) the applicant's résumé or CV (one page only) with complete contact information (-including full name, mailing address, contact telephone number, university affiliation, and e-mail address), student status, awards and grants received, and publications; and (2) a single double-spaced page of an expanded abstract describing the research to be presented at IMC-12 and its significance to the student's career goals. Deadline for applications for this student travel award is November 15, 2016, and notification of results will be made around December 15, 2016. All applications must be made electronically and sent to Dr. Duane Schlitter, co-chair of the International Relations Committee, e-mail address: happygd@suddenlink.net .
Any questions concerning this travel award opportunity should be sent to the International Relations Committee co-chairs Dr. Duane Schlitter (happygd@suddenlink.net or schlitterda@gmail.com) or Dr. Ricardo Ojeda (rojeda@mendoza-conicet.gob.ar).
Information on IMC-12 can be found online at www.promaco.com.au/IMC12.