Co's Digital Flora of the Philippines
(CDFP; Pelser et al. 2011 onwards;) is a digital checklist of Philippine vascular plants that aims to present a continuously updated account of all native and naturalized species of vascular plants in the Philippines with diagnostic photographs for each taxon.
by Pieter B. Pelser, Julie F. Barcelona , and Daniel L. Nickrent
Editors and Contributors
CDFP was developed by Pieter Pelser, Julie Barcelona and Daniel Nickrent from an unpublished checklist of Philippine flowering plants compiled by the late Leonardo L. Co from Merrill's Enumeration of Philippine Flowering Plants (1923-1926) and more recent literature. It is continuously updated with taxonomic data from recent publications and information provided by taxonomic experts. Users of the CDFP website (e.g., biology students, government and NGO employees, teachers, amateur botanists, taxonomic specialists, conservationists, and hobbyists) play an extremely important role in further developing the website by contributing plant photos and helping with plant identifications through the CDFP Facebook Group.
| | |
| --- | --- |
| | |
| Pieter Pelser and Julie Barcelona | Daniel Nickrent |
Goals
The Philippines is one of the world's 25 biodiversity hotspots (Myers et al. 2000, Brooks et al. 2006, Webb et al. 2010). Unfortunately, the forests that harbour its remarkable biodiversity are in decline and this endangers the livelihoods of many Filipinos who depend on it for, amongst other things, food, water and protection against climatic extremes. Efforts to mitigate this trend rely on knowledge of the organisms that compose these ecosystems. However, a modern overview of the over 10,000 Philippine plant species was, until recently, lacking, because the Philippines has yet to produce a comprehensive written Flora. The absence of such an overview of botanical biodiversity has hampered interest in many Filipino students to pursue Botany as a career path.
Leonardo L. Co, a world-renowned Philippine plant taxonomist, devoted much of his life to studying the plant diversity of his country. His magnum opus was an updated version of Merrill's enumeration of Philippine plants (1923-1926). Sadly, on 15 November 2010 Co's life was tragically ended before he could complete and publish his checklist.
In November 2011, Pelser, Barcelona and Nickrent launched the CDFP website to host and further develop Co's unpublished checklist. The aim of this website is to present a continuously updated account of all native and naturalized species of vascular plants in the Philippines with multiple diagnostic photographs for each taxon. In this way, we would like to honor Co's contributions to Philippine botany and conservation and hope to continue his legacy of generating and freely sharing botanical knowledge to stimulate biological education, research, and conservation.
Rafflesia philippensis
(Rafflesiaceae)
Phaius callosus
(Orchidaceae)
Lasianthus sp.
(Rubiaceae)
Content
The CDFP website is composed of separate pages for pterophytes and lycophytes (pteridophytes), and gymnosperms, and one page each for the angiosperm families. Species-rich families such as the Fabaceae and Orchidaceae, however, occupy three pages each. For a growing number of species, in-situ photos are available to put 'faces' to the plants in the checklist, to show diagnostic characters and to display intra-specific morphological diversity. Additional pages provide background information and include a biography of Leonardo Co, an overview of Philippine biogeography, and an account of the history of botanical exploration in the Philippines.
Bulbophyllum dearei
(Orchidaceae)
Chingia ferox
(Thelypteridaceae)
Dendrochilum uncatum (Orchidaceae)
The plant photographs taken by the CDFP team, and those generously contributed by many others, are deposited in PhytoImages (Nickrent et al. 2006 onwards) and linked from the CDFP website. PhytoImages is a web interface that provides free access to scientific-quality plant photographs from all over the world with their associated meta-data (e.g., locality information, voucher data, latitude/longitude coordinates, captions, Google and VE maps and taxonomic data).
In addition to the checklist and the plant photographs that are linked to it from PhytoImages, CDFP has a Facebook Group. This Group was created to be a forum for discussions on Philippine botany and an interactive outpost for the checklist website. Membership is open and members post plant photographs for identification and/or provide identifications for photos of unknown plants uploaded by others. Group members include professional botanists from all over the world, amateur plant enthusiasts, students, teachers, staff of non-governmental organizations and conservation groups, scientific, academic, and Philippine government institutions, members of horticultural societies, and private plant collectors. The CDFB Facebook group provides an electronic infrastructure for remote training and mentorship for botany students from different parts of the Philippines by more experienced members who share their time and knowledge, and is therefore a useful learning and teaching tool. Topics of discussion include diagnostic characters used to identify plants, distributional, ecological, cultural, ethnobotanical and economic uses of Philippine plants, taxonomic status of names, threat status and endemism, and recent publications in the scientific literature. The discussions also serve as a way to introduce the users of the Facebook group to free online botanical resources, such as open access journals, the Biodiversity Heritage Library, and online photos of type specimens.
Cirrhopetalum cumingii (Orchidacae)
Hedychium philippinense
(Zingiberaceae)
Sterculia cf. ceramica (Sterculiaceae)

Future Developments
As can be expected for a prematurely published manuscript, the CDFP checklist is far from a polished document. There are numerous misspellings, parsing errors resulting from the conversion from Word files to html, and style and formatting inconsistencies. In addition, treatments of some taxonomic groups are current, whereas others still need to be revised. Type information is provided for many species, although it is still lacking for others and the synonymy is incomplete. In addition, some relevant literature might be absent in the literature lists. Naturalized and cultivated species are not treated consistently.  Sometimes they are included in the checklist, sometimes they are not. Sometimes they are presented under a separate heading, sometimes they are included with the native species. Editing priorities presently include updating taxonomic treatments, amending distributional data, more explicitly highlighting Philippine endemics, and consistently reporting whether a taxon is native or introduced.
The editors greatly appreciate suggestions to improve the website, comments, additions, corrections, and, especially identifications for plant photos and photos of taxa for which these are not yet available (please email pieter.pelser@canterbury.ac.nz).
Christensenia lobbiana (Marattiaceae)
Hoya meliflua
(Apocynaceae)
Phaleria capitata
(Thymelaeaceae)
Literature
Brooks, T.M., R.A. Mittermeier, G.A.B. da Fonseca, J. Gerlach, M. Hoffmann, J.F. Lamoreux, C.G. Mittermeier, J.D. Pilgrim and A.S.L. Rodrigues. 2006. Global biodiversity conservation priorities. Science 313: 58-61.
Merrill, E.D. 1923-1926. An enumeration of Philippine flowering plants, 4 Vols. Manila: Bureau of printing
Myers, N., R.A. Mittermeier, C.G. Mittermeier, G.A.B. da Fonseca and J. Kent. 2000. Biodiversity hotspots for conservation priorities. Nature 403: 853-858.
Nickrent, D.L., P.B. Pelser, M. Costea, J.F. Barcelona and K.C. Nixon KC (eds.). 2006 onwards. PhytoImages: www.phytoimages.siu.edu.
Pelser, P.B., J.F. Barcelona and D.L. Nickrent (eds.). 2011 onwards. Co's Digital Flora of the Philippines. www.philippineplants.org
Webb, C.O., J.W.F. Slik, T. Triono. 2010. Biodiversity inventory and informatics in Southeast Asia. Biodiversity Conservation 19: 955-972.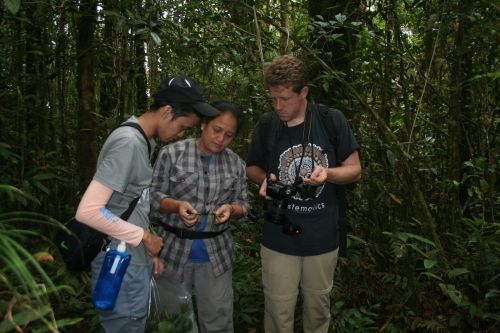 Julie Barcelona and Pieter Pelser during hands-on field taxonomy training of Mr. Muhmin Manting, an early career teacher at Mindanao State University – Iligan Institute of Technology.
The copyright for all the photos is Pelser & Barcelona
Received 29 July 2013; Published on line 30 July 2013
© 2013 The Author(s)
Tropicalbio.org © 2013 by The Association for Tropical Biology and Conservation